Automated Meter Reading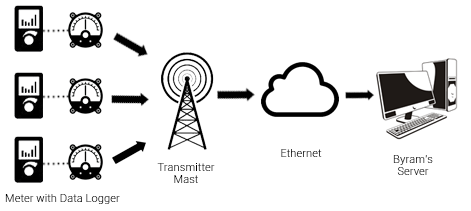 Automatic Meter Reading (AMR) meters transmit usage data through a one-way wireless radio frequency signal. These signals are received through data collectors installed in multifamily leasing offices to measure water usage for the residents on the property.
AMR meters offer an accurate, affordable way to measure water usage. While traditional meters must be read and inspected visually each month, usage data from AMR meters can be downloaded automatically through the onsite data collector.
AMR meters also make it easy to gather usage data more frequently than once a month. Aggregated daily readings from AMR meters can be used to track water usage.
AMR capable meters are ideal for all new construction and replacement of older meters. Byram has water, electric and gas meter solutions that work with Inovonics, Tehama Wireless and Next Century AMR systems.
If you have any questions regarding AMR/AMI meters, please contact a Customer Service Representative at Byram Laboratories, Inc.